High Definition 720P-AHD Series
 3G Live View Video Streaming GPS & Wi-Fi
The SD4HC student video surveillance camera system for school buses offers a 3G Video Streaming student video surveillance system with a higher level of Video Evidence Security virtually eliminating the possibility video files will be viewed by outside parties or on unauthorized video players. The SD4HC version offers Built in 3G SIM card support, Live GPS  Tracking for Geo-Fencing, vehicle location, vehicle speed and free On Screen Mapping during playback. In addition the SD4HC has a built in Wi-Fi Wireless module with external Wi-Fi antenna for increased range, as well as Automated Data File Download CMS software included with the system at no cost. The SD4HC mobile vehicle surveillance DVR has no moving parts in the recording mechanism, making it 100% Solid State Digital. It is able to endure very harsh environments making them well suited for high-risk vehicle applications that require rugged solid state dependability for video evidence. Driver Behavior recording aspects of the 3-Axis accelerometer, combined with the active driver alerts provide a powerful tool for management.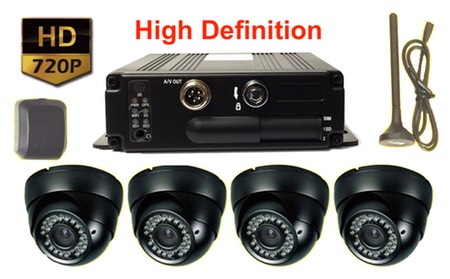 SD4HC
School Bus Remote Surveillance Cellular Video Streaming w/GPS & Wi-Fi
SD4HC DVRs offer these features at a low cost:
High Definition Low Cost School Bus Video Surveillance Solution
3G Video Stereaming, Live View from all cameras from remote PC or Smartphone
Live GPS tracking, vehicle location and route history
GPS Vehicle Speed & On Screen Mapping included shows bus location on map during playback
Wi-Fi Wireless module built in, Wi-Fi antenna included
Automated Data File Download via Wi-Fi
512 GB  Twin SD Card Bays for 100% Solid State Memory Capacity

 

4-channel School Bus Video DVR accepts 4  cameras with audio
Mosaic "Blurring" software to help protect non involved passengers during video presentation
Built in 3-axis Accelerometer, Crash trigger & G-Sensor Charting
720P-AHFD  High Definition 1280 x 720 TVL & H.264 compression permits longer onboard memory storage files
10-Year Extended Warranty available
High Definition 720-AHD Version & Megapixel Cameras
720P HD Version with 512 GB SDXC Solid State Memory Capacity
Cellular - High Definition Hybrid 720P-AHD (1280x720)  - Bus Video Surveillance Camera System Megapixel Cameras, Solid State SD4HC Bus Video DVR with power & A/V/P Cable adapter, I/O Triggers Display & Alarm, locking SD card Bay, built in 3-Axis Accelerometer (G-Sensor) SD memory card not included. Pricing dependent on quantity & terms, request quote for more information.
SD4HC-1 ...1-Camera 3G Video Streaming High Definition Student Transit Bus Camera Observation Surveillance $1,100 - $1,200
SD4HC-2 …2-Camera 3G Video Streaming High Definition Student Transit School Bus Camera Observation Surveillance $1,200 - $1,300
SD4HC-3 …3-Camera Live View 3G Streaming Megapixel High Definition Pupil Transportation School Bus Video Safety  $1,300 - $1,400
SD4HC-4 …4-Camera Live View 3G Streaming Megapixel High Definition Pupil Transportation School Bus Video Safety $1,400 - $1,500
Photo Gallery of 3G/4G Live View Cellular CMS Server Screenshots
*All features of 3G/4G Cellular Live Video Streaming require "3G/4G Cellular Hosting plan,  w/customer supplied; SIM card, 3G service & ISP Data plan. Detailed Quote available upon request. 
SD4HC sample screenshots below in low resolution to speed up page loading:
SD8C & SD4C are the 3G cellullar Special Order Item versions they record in high resolution D1, but stream video in lower resolution the 3G celllular bandwidth can support. Sample 3G screenshots below:

What can a Digital Bus Video System do for our School District? 
Excerpt from: Buyers Guide To Digital Bus Video Systems
Can Provide A Deterrence
Digital school bus video systems on buses are a proven deterrent to help prevent some behavioral problems. This is not debatable and has been not only used as a primary deterrence by security and law enforcement in the past but by school districts throughout the USA. Digital video surveillance systems are management tools to increase the safety of your vehicle passengers, increase driver awareness of supervision so they are mindful of their actions.
Can Act As Expert Witness
Documentation of child or driver incident by use of a school bus camera system, of the actions and or statements made without bias, prejudice or outside influence. Recorded video evidence has and can be used in court as long as legal guidelines and access controls are maintained. 
Can Overcome Perspective Bias
These products provide a means to verify or dismiss actions and events that may be claimed by children, parents or others who may be responding to incorrect information, lies, slander or false perceptions. Children and politicians share a propensity to fabricate falsehoods. Like so many "Washington Weasels" who only admit their deceit when it is played in high definition video for all to see, School bus camera systems provide a similar service as up to the point a parent sees their angel with his hands around another child's neck, nothing you could have told those parents would have changed their minds that their child was being falsely accused.
Can Prove A Negative or Non-Event
Documented events, actions or lack of them, can help defend your driver, students, school administration or school system against liability lawsuits. One of the most damaging to a persons reputation and hardest to defend against can be malicious, baseless or unfounded accusation against a person in authority by someone they are charged to protect. A single false claim that a driver sexually molested, fondled or made lewd, derogatory suggestive comments to a child can destroy a driver's ability to work around children. It is impossible to prove something did not happen between 2 individuals when there is no evidence, witnesses or confession. Digital bus video systems can provide impartial documentation to help resolve complaints or concerns.
Can Help Criminal Documentation For Prosecution
Mobile digital video systems can document incidents of; aggravated assault, assault, rape, sexual assault, assault, hate crimes, bulling, terrorist threats, for legal prostitution of the perpetrator in defense of the victim. The best evidence in court is often video file of the incident from a scientific recording instrument  like a mobile vehicle DVR as it is impartial.
Can Help Prevent Vandalism
When vandals are documented by Digital vehicle recorder they can be proved guilty as charged and punished, protecting the district from unnecessary waste due to continued vandalism.
Can Provide Piece of Mind
In knowing you have taken positive public and verifiable steps to either stop or prevent unwanted behavior on your bus by addition of these vehicle camera systems . In light of the priceless value of the children entrusted to the school system daily, the cost of a system that can provide the above is an investment that will demonstrate a level of decisive leadership in accepting the awesome responsibility of caring for the safety of our children.
Document Your Driver Actions & Performance
 * Does the driver text on a phone while driving?
* Does the driver surf the net on a laptop PC while driving?
* Does the driver watch video movies or TV while Driving?
* Does the driver pickup hitchhikers?
* Does the driver use the company vehicle for non-company work
* Does the driver pose a hazard to other drivers on the road
* Does the driver act in a way that your company may be sued?
* Does the driver have unauthorized passengers in the vehicle?
* Did the driver stop at the 4 way stop signs?
* Did the driver stay on route or wander all over the place?
* Did the driver make personal trips in the vehicle?
* Does the driver speed on certain roads?
* Does the driver stop at a railroad crossing or just slow down?
* Was the vehicle used on weekends for unauthorized trips?
* Where the vehicle is parked during the day and nights?
Can Provide Documentation of Driver Activities
For the first time driver activity can be monitored in a real time medium. What they say to children, how they interact and what they do, or do not do, are now part of the documented video that can be viewed or archived should there be concerns or problems that need to be addressed.
Can Highlight Potential Safety or Legal Violations
On Screen Mapping technology can now address specific claims that may arise from the public or parents that can take up valuable resources and time to handle and manage internally. 
Verify or Disprove Claims About Your Driver:
 * The vehicle was too early or did not visit a customer
* The vehicle was too late or never showed up
* The vehicle did not stop at a particular address
* The vehicle was speeding past our house
* The vehicle does not stop at 4 way stops
* The vehicle speeds over train tracks
* The vehicle drives on the shoulder of the road
* The vehicle tailgates and has threatened other drivers
Digital bus video systems are management tools to increase the safety of your vehicle passengers, increase driver awareness of supervision and back them up when they do the right thing.