DWT is an acronym for "Driving While Texting" and what began as a infrequent concern for Fleet Directors or company management has become a full blown epidemic of Fleet Driver Risk with Multi-Million dollar settlements already awarded for the reckless loss or life or property due to this disabling driver behavior.
At this moment how many fleet drivers are engaging in known, proven dangerous activities while driving company vehicles, that are:
• Endangering their lives and the lives of others
• Endangering the damage or loss of your companies vehicle 
• Jeopardizing the loss of multi-Million dollar settlements
• Tarnishing your company reputation in the market or community


Your Fleet Drivers Are 23 Times More At Risk
From a study conducted by the Virginia Tech Transportation Institute (VTTI):
• A truck driver texting while driving is 23.2 times more likely to get into an accident than a trucker paying full attention to the road.
• A truck driver dialing a cell is 5.9 times more likely to crash.
• A trucker reaching for a phone or other device is 6.7 times more likely to experience a truck accident. For every 6 seconds of drive time, a driver sending or receiving a text message spends 4.6 of those seconds with their eyes off the road. This makes texting the most distracting of all cell phone related tasks.
"In 2002, the Harvard Center for Risk Analysis calculated that 2,600 people die each year as a result of using cell phones while driving. They estimated that another 330,000 are injured."

Failure To Act Penalties are Staggering
Private fleets are facing a Tsunami of risk and the potential losses in capital, assets and much higher fleet insurance costs could amount to a metaphorical tidal wave that could wipe out company profits if a manageable mechanism is not incorporated to help reduce the incidence of this dangerous driving behavior, and proper management oversight is not in place ASAP.

$49 Million dollars awarded In Trucking Accident Involving Texting
How many companies can suffer the loss of $49,000,000.00 without serious damage to their structure or core? Most small to medium sized companies will be wiped out or bankrupted with a single settlement of this magnitude.  There are low cost alternative to multimillion dollar liability lawsuits, that will help them enforce the current laws and provide substantial management oversight in the goals of preventing accidents before they happen.


Fleet Driver Risk Solutions For "Driving While Texting" (DWT)
 Incorporate DWT Materials into Professional Driver Training  The most basic form of driver awareness to these dangers is in a formal training environment, from the start with periodic reinforcements, and case studies when appropriate to try to keep this at the forefront of the driver's awareness as to the costs far outweighing the benefits. While this should be an integral part of the solution, this is optimism at best to believe that telling an driver they should not do something, that is now ingrained in their culture, will have any substantial effect. 

Company Policy No Cell Phones  It is already unlawful for Interstate or heavy duty truck and bus drivers to use their cell phones when driving, it is still a daily driver behavior that cannot be eliminated as it is so hard to detect and widespread. While a company is free to tell their drivers they must not have a cell phone while in the vehicle, the actual number of employees who will follow this policy may fail to stop usage. Again this is a must for all companies to set a professional tone with their employees and project a public image of responsible attention to the safety of those their drivers share the roads with. Often this is more a means to try to deflect blame and public outrage when the company driver ignores what the company policy is and spends time texting friends or loved ones while driving.

Driver Cameras as an alternative. Those who rely on a conventional driver cam or event recorder to stop DWT, are wasting their company capital and providing a false sense of security and Federal compliance. The same smiling salesperson who was happy to take your order may have a hard time getting back to you when your company or agency is named in another $49,000,000.00 lawsuit that you believed their event recorder would prevent. Hindsight like truth, can be painfully honest, and no matter how quickly we learn from our mistakes, the knowledge gained from that pain, it will not bring back the loss of life, damaged public relations, loss of property, it will merely provide the proper perspective that you were deceived to believe a passive device could ever provide a proactive alert in time for an accident to be prevented.
Drive Cameras cannot alert you when your drivers are "Driving While Texting" (DWT).

Event Recorders cannot alert you when your drivers are "Driving While Texting" (DWT).

Telemetry Data Recorders cannot alert you when your drivers are "Driving While Texting" (DWT).

Windshield Driver Cameras cannot alert you when your drivers are "Driving While Texting" (DWT).

Bus Video Cameras cannot alert you when your drivers are "Driving While Texting" (DWT).

Vehicle Surveillance Cameras cannot alert you when your drivers are "Driving While Texting" (DWT).
None of the above products saved a single one of the 5,500 People Killed Every Year Due to "DWT" accidents
Live Video Surveillance - aka Streaming Video vehicle cameras that permit supervisors to randomly monitor driver behaviors on the road is random, unannounced and a constant reminder that the driver is expected to operate e the company vehicle in a professional manor or face repercussions of failure to do so.

Live Alerts - triggered when drivers operate in a unsafe manner, can alert the supervisors or CMS operations personnel that the drivers are distracted.
Erratic driving, hard braking, hard high "Y" axis turns and low impact "Z" axis deflections are common when they are distracted with their phones, eating, smoking, changing clothes or other distracting activities, when they should be focused on driving. This may be the only warning signal provided prior to an accident that could have been prevented.
High Definition 720P-AHD Series
 3G Live View Video Streaming GPS & Wi-Fi

The SD4HC student video surveillance camera system for school buses offers a 3G Video Streaming student video surveillance system with a higher level of Video Evidence Security virtually eliminating the possibility video files will be viewed by outside parties or on unauthorized video players. The SD4HC version offers Built in 3G SIM card support, Live GPS  Tracking for Geo-Fencing, vehicle location, vehicle speed and free On Screen Mapping during playback. In addition the SD4HC has a built in Wi-Fi Wireless module with external Wi-Fi antenna for increased range, as well as Automated Data File Download CMS software included with the system at no cost. The SD4HC mobile vehicle surveillance DVR has no moving parts in the recording mechanism, making it 100% Solid State Digital. It is able to endure very harsh environments making them well suited for high-risk vehicle applications that require rugged solid state dependability for video evidence. Driver Behavior recording aspects of the 3-Axis accelerometer, combined with the active driver alerts provide a powerful tool for management.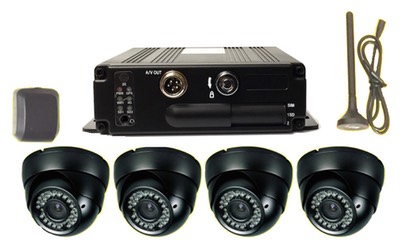 SD4HC
School Bus Remote Surveillance Cellular Video Streaming w/GPS & Wi-Fi
SD4HC DVRs offer these features at a low cost:
High Definition Low Cost School Bus Video Surveillance Solution

3G Video Stereaming, Live View from all cameras from remote PC or Smartphone

Live GPS tracking, vehicle location and route history

GPS Vehicle Speed & On Screen Mapping included shows bus location on map during playback

Wi-Fi Wireless module built in, Wi-Fi antenna included

Automated Data File Download via Wi-Fi

512 GB  Twin SD Card Bays for 100% Solid State Memory Capacity

 

4-channel School Bus Video DVR accepts 4  cameras with audio

Mosaic "Blurring" software to help protect non involved passengers during video presentation

Built in 3-axis Accelerometer, Crash trigger & G-Sensor Charting

720P-AHFD  High Definition 1280 x 720 TVL & H.264 compression permits longer onboard memory storage files

10-Year Extended Warranty available
High Definition 720-AHD Version & Megapixel Cameras
720P HD Version with 512 GB SDXC Solid State Memory Capacity
Cellular - High Definition Hybrid 720P-AHD (1280x720)  - Bus Video Surveillance Camera System Megapixel Cameras, Solid State SD4HC Bus Video DVR with power & A/V/P Cable adapter, I/O Triggers Display & Alarm, locking SD card Bay, built in 3-Axis Accelerometer (G-Sensor) SD memory card not included. Pricing dependent on quantity & terms, request quote for more information.
SD4HC-1 ...1-Camera 3G Video Streaming High Definition Student Transit Bus Camera Observation Surveillance $1,100 - $1,200
SD4HC-2 …2-Camera 3G Video Streaming High Definition Student Transit School Bus Camera Observation Surveillance $1,200 - $1,300
SD4HC-3 …3-Camera Live View 3G Streaming Megapixel High Definition Pupil Transportation School Bus Video Safety  $1,300 - $1,400
SD4HC-4 …4-Camera Live View 3G Streaming Megapixel High Definition Pupil Transportation School Bus Video Safety $1,400 - $1,500
Photo Gallery of 3G/4G Live View Cellular CMS Server Screenshots
*All features of 3G/4G Cellular Live Video Streaming require "3G/4G Cellular Hosting plan,  w/customer supplied; SIM card, 3G service & ISP Data plan. Detailed Quote available upon request.